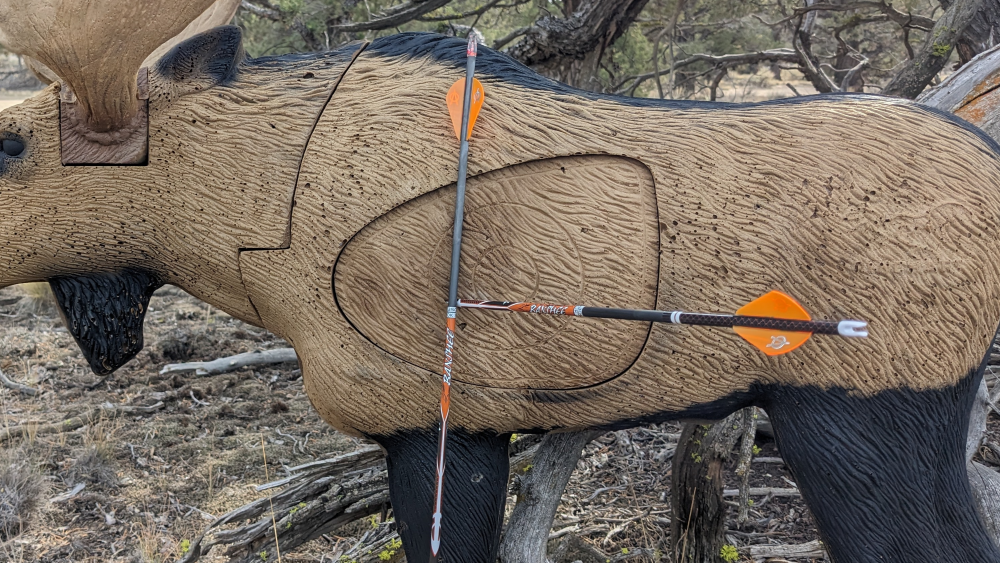 Banshee™ Arrow Test Packs
OVERKILL Test Packs come with:
2 Banhee arrows (built & fletched to spec)
2 Field Points (choose your grain weight)
Test OverKill Banshee carbon hunting arrows for your bowhunting success! Check out our test packs below to see which one is best for your upcoming hunts.
*Testing Bonus! Order a dozen or more Banshee arrows within 30 days of your test pack order and we will deduct the base price of your test pack from that order.*

If you have technical questions or if you would rather place your order over the phone call us at 888-697-9828.
---
So Why Test? - Testing is the only way to confirm perfect arrow flight, for you, from your bow, at your lethal distance. Arrows and bows all work about the same. The "X" factor in arrow turning is always going to be the shooter. The charts are a fantastic guideline but the only way to truly dial it in your arrow flight - is to test first.
Which test pack should you try?

If you're used to lighter conventional set-ups with total arrow and broadhead weights in the low 500-grain region, check out our Banshee Stock Test Pack.
---
If you're looking for a true one arrow that can do it all in North America and all African Plains game, then try our Banshee Big Game Test Pack.
This test pack will show you just how easy it really is to shoot 650-grain or 575-grain arrows. The 650-grain system will work on anything from whitetail deer and hogs to elk, moose, bison, and even brown bears and grizzlies. The 575-grain option offers bowhunters more speed and a flatter trajectory on longer shots, while still packing a punch.
---
Do the testing, have the confidence that your setup is the best you can get - and then go get your trophies with total confidence.
---
Here's the best part! (Incentive to test) If you order a dozen Banshee arrows within 30 days of us shipping you your test pack, we will rebate you the cost of your original test pack on that order. Your testing ends up costing you next to nothing.

If you're serious about your bowhunting - set yourself up for success with the OverKill Banshee Hunting System.
Key Features:
Precision Engineered for Accuracy:
The Banshee arrows are crafted with meticulous precision, ensuring each arrow flies true to its target, thanks to our stringent quality control processes.

With a straightness tolerance of ± 0.003", you can trust that every shot will hit its mark.
Cutting-Edge Technology:
The Banshee arrows are the result of cutting-edge technology and years of research and development.

The advanced carbon-fiber construction offers superior strength and durability, ensuring they can withstand even the toughest hunting conditions.

Nanoceramic ICE coating reduces friction, allowing for quieter, smoother, and faster arrow flight.
Power and Penetration:
The Banshee arrows are built to deliver exceptional kinetic energy and penetration.

Their high FOC (Front of Center) design ensures maximum accuracy and terminal performance, making them the ideal choice for big game hunting.
Unique Design:
The Banshee arrows stand out with their distinctive, eye-catching graphics.

The striking appearance not only adds to their aesthetic appeal but also helps with quick and easy arrow identification in the field.
Unmatched Affordability:
We believe in offering premium products at prices that won't break the bank.

The Banshee arrows are a testament to this philosophy, combining top-tier quality with affordability.
Value Packed:
The package includes not only the exceptional Banshee arrows but also field points, making them ready for your hunting adventures right out of the box.

It's a cost-effective solution that saves you time and effort in searching for additional accessories.